Quick Details
Place of Origin:china

Brand Name:sanhe

Model Number:

MOQ:10pieces

Certificate:IEC

Voltage:high voltage

Application:

Standard:IEC

Insulation Material:glass insulator FiberGlass

Package:Packet with crates

Port:Qingdao Tianjin

Conductor Material:
Overview
An unidirectional flow of direct electric current result in specific electric stresses which require special insulating materials and
design of insulators to resist corrosion of metal parts, pollution accumulation on insulator surface and other cases related to
application of insulator on OHV DC lines.
Corrosion caused by direct current requires protecting metal end fittings. To prevent this, a sleeve made of pure zinc is cast
directly on to the pin. Thus, zinc sleeve acting as a sacrificial electrode protects the pin against galvanic action. Adapted design
of glass part has low ion conductivity due to special glass chemistry.
GIG offers insulators for DC application with mechanical load 160, 210, 300 kN.
The reduced radio interference insulators are modified standard insulators designed to preserve both the geometry and design,
as well as their technical characteristics, however, unlike the standard ones, the former feature the level of radio interference
reduced by 8 to 10% and the reduced corona discharge losses.
The use of the reduced radio interference insulators on power lines will reduce the corona power loss. The decreased corona
discharge losses, in turn, result in the decreased air ionization around the insulators and the overhead line accessories and,
consequently, in the decreased likelihood of the insulator string flashover. The use of these types of insulators at power grid
facilities will improve the reliability of overhead line operation.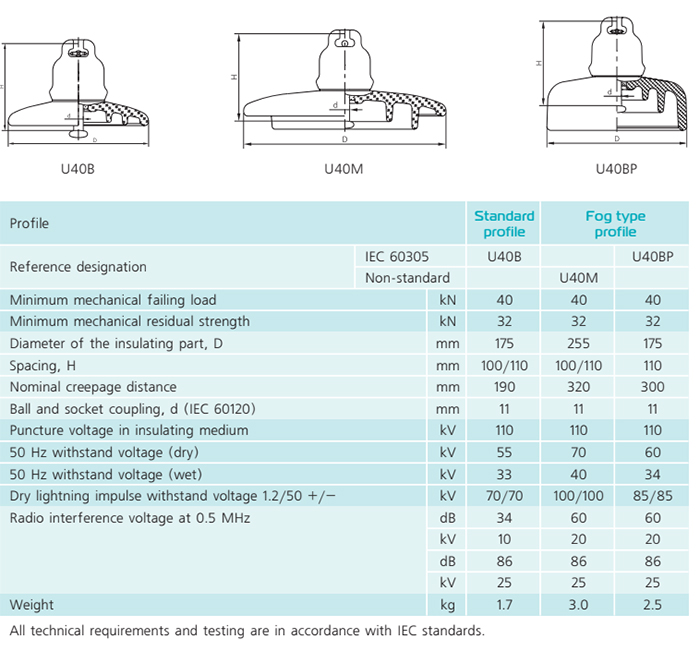 Product Photos